Raise Right (formerly known as Scrip)
Gift card fundraising is the best way to raise money. Buy gift cards from your favorite brands (local and national) to earn on your daily purchases. It's never been easier to create opportunities for what matters most to you.

Raise Right is a voluntary program offered at Holy Spirit Parish and School as a means to reduce tuition costs or to allow you to donate to other funds within our parish, including:
-Holy Spirit Educational Foundation
-General Fund (Sunday Offertory)
-Music Ministry
-Garden Angels
-and more…
Raise Right is a gift certificate or gift card from national and local retailers. They're the same gift certificates/cards that you buy at the store. The advantage of going through Raise Right is your regular household shopping dollars earn rebates from area merchants that are credited to your family's tuition account or parish fund of your choosing on a quarterly basis without adding any extra cost to you!
You do not have to have children in the school to participate in Raise Right.
Using Gift Cards Instantly
Shop eGift cards and add money to your reloadable cards to use funds right away- no planning necessary.

National brands, as well as many local brands participate. Local brands include (but are not limited to):
-Arsulowicz Eye Care
-Beaches and Braces
-Amway Grand Plaza
-B.C. Pizza
-Big Apple Bagel
-Lewandoski's Market
-Mr. Burger
-Peppino's Pizza
-Sobie Meats
-Walker Roadhouse
-Uccello's
-Walker Roadhouse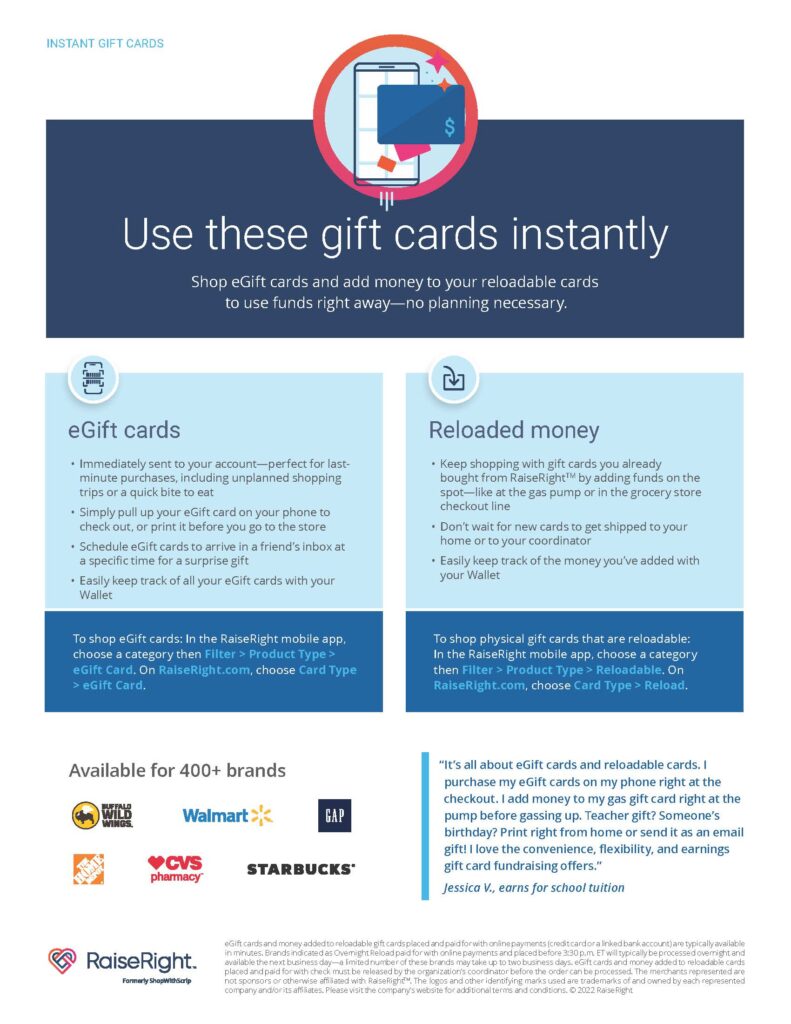 But how do I get my physical gift cards if I am not connected to the school?
Raise Right physical gift cards will be available for pickup on the first weekend of each month in the Narthex before and after Masses or in the parish office during regular office hours.
Getting Started
Get started by downloading the Raise Right app on your phone or go to RaiseRight.com on your computer.
For step-by-step instructions, visit RaiseRight.com/m/StartEarning.
Enrollment Code: 3L35FA7B131
For questions contact Holy Spirit's Raise Right Coordinator:
April Alt, scrip@hsparish.org