Holy Spirit Parish had a unique beginning on the Northwest side of Grand Rapids, Michigan. Bearing the name St. Agnes, weekend services were originally held at Rosedale Cemetery Chapel while plans for a parish church were discussed. When adequate acreage was made available on Lake Michigan Drive, the Diocese of Grand Rapids made plans to change not only the parish location but also its name.
On January 15, 1952, the Parish of the Holy Spirit was canonically established by Bishop Haas, with Rev. Bernard Sikorski as its Pastor. By 1953, 101 families had gathered and began to develop plans for a building that would house not only the parish Church, but also the beginnings of a school. Classroom doors opened on September 9, 1953 and included six grades. By the end of that year, parish registration had risen to 260 families.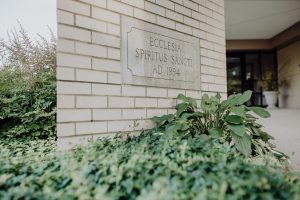 Each year brought growth on the Northwest side of Grand Rapids and in the parish. Construction was begun on a convent for the Felician Sisters who taught at Holy Spirit, and a house on Lake Michigan Drive was purchased as the parish rectory. By 1957, construction of a new church/auditorium began along with additional classrooms needed to accommodate the ever-growing school.
On August 14, 1958, a fire of suspicious origins destroyed one-half of the building to be used for parish worship. Parishioners rallied in great numbers to clean the damaged area and prepare the still under-construction space for weekend worship. Work was completed, and on September 27, 1959, the new church auditorium was formally dedicated by Bishop Allen Babcock.
As the years passed, the parish grew in many ways. Numbers increased steadily. New classrooms were added for the school and Religious Education program. Parishioners responded to participation in all the organizations, ministries, and services that are the expression of any vibrant community. An annual Parish Festival became one of the hallmarks of the west side.
But through all the growth, there was always the vision of a permanent worship space that would truly stand as the center of parish life. After years of hard work, sacrifice, and planning, the new parish church was dedicated on Pentecost Sunday, the Feast of the Holy Spirit, May 22, 1994. Although the people of Holy Spirit are proud of their church, it is evident to all that the real church is the people of God. Fr. Sikorski's leadership was followed by Fr. John Tupper, Fr. Tony Vainavicz, Fr. Steve Dudek, Fr. Leonard Sudlik, Fr. John Vallier, and Fr. Mark Peacock. Family registrations have risen to over 1,500. All who come are invited to live the parish Mission Statement: The Parish of the Holy Spirit is a Christ-centered community that is challenged by the Spirit to live and spread God's Word through ministry and outreach.